About Us
Curitex Medical Pvt. Ltd. is emerged as a noteworthy entity of Vadodara, Gujarat, which is actively engaged in the production of unparalleled quality medical textiles such as Cotton Wool Roll, Surgical Cotton Roll, Absorbent Cotton Roll, and many others, that are widely utilized for wound healing as well as regenerative applications. Besides, being a customer oriented firm we mainly focuses on attaining 100% customer satisfaction through making availability of superior quality products at reasonable rates. Further, we follow ethical business policy along with quality assurance policy for ensuring the flawlessness of our range. Our core motive is to be a forerunner in this domain. Moreover, we have highly diligent as well as experienced professionals in our quality controlling department, who rigorously examined the offered range on several factors that are related to the quality. Apart from this, our vision is to improve the quality of our range and services with an aim of winning client satisfaction. In addition, we have created a reputable position in this field due to our quality and client centric approach along with competitive marketing strategies.
Capabilities Manufacturing
Our manufacturing unit for Absorbent Cotton Dressing and Gauze Dressings currently has an installed production capacity of 37.5 tons/month. All our products will be manufactured under license from the FDCA, Gujarat, as per Indian Pharmacopoeia (IP) and British Pharmacopoeia (BP) standards. We are in the process of obtaining US FDA and CE Mark certifications for export customers.
R&D and New Product Development
At Curitex Medical we believe that the future of healthcare will be determined by organizations that:
1) foster multidisciplinary medical device innovation and
2) have an unwavering focus on creation of technologies that maximize patient outcomes.
We are partnering with leading institutions of national repute, and private organizations. Below are key our key areas of interest and we invite organizations interested in working with us to reach out:
1) In-Licensing of technology or products that fit our strategic roadmap
2) Joint ventures with private entities looking to enter the Indian market
3) R&D collaborations with academic institutions or national centers of excellence
We are equipped with a state of the art lab that is constantly being upgraded.
Contract Manufacturing
Our expertise lies in the manufacture of absorbent wound dressings (classified by the CDSCO as a Class A medical device). We invite organizations that have marketing forte, but lack the manufacturing capacity or expertise, to engage with us.
Product Range
Absorbent Cotton Rolls: 20 Gm Absorbent Cotton Rolls, 50 Gm Absorbent Cotton Rolls, 100 Gm Absorbent Cotton Rolls, 200 Gm Absorbent Cotton Rolls, 400 Gm Absorbent Cotton Rolls, 500 Gm Absorbent Cotton Rolls, Absorbent Cotton Rolls and 10 Gm Absorbent Cotton Rolls.
Surgical Bandages: Gauze Rolls and Gamjee Rolls.
Absorbent Cotton Wool: 500GM Absorbent Cotton Wool Roll, Absorbent Cotton Rolls and 20GM Absorbent Cotton Wool Roll.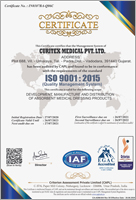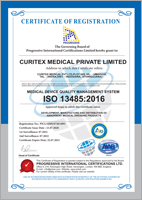 Read More