Absorbent Cotton Wool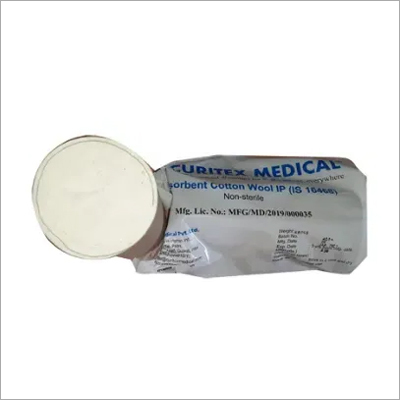 Absorbent Cotton Wool
Price And Quantity
Product Specifications
From 2 inch to 9 inch Inch (in)

White without optical brightner
Product Description
Surgical Cotton/Absorbent cotton/Cotton Wool,
of IP standard IS 16468 used by doctors for different dressings.
Available in various sizes ranging from 10 gm rolls to 500 gm rolls in gross and net.
We can also provide bleached cotton in bale form of 150 kg.
Our product is 100 % cotton. We do not mix any synthetic fibers.
It is Hydrogen Peroxide bleached suitable for skin.
We do not use Optical Brightener for more whiteness as it is not permitted
by FDA India.
We follow IP Standards IS 16468
Our product uses the process which is ecofriendly. We do not use boilers
which generates pollution.

Available in below sizes and packing.
10 gm gross/1008 Rolls Per Box (42 packets of 24 rolls each)
20 gm gross/864 Rolls Per Box (36 packets of 24 rolls each)
50 gm gross/336 R0lls Per Box (28 packets of 12 rolls each)
100 gm gross/200 rolls Per Box
200 gm gross/100 Rolls Per Box
500 gm gross/40 Rolls Per Box

Trade Information
Box Size 24 inch x 18 inch x 28 inch Box weight 21 kg 40 ft HQ container will carry 480 boxes 20 ft container will carry 180 boxes 10 gm gross/1008 Rolls Per Box (42 packets of 24 rolls each) 20 gm gross/864 Rolls Per Box (36 packets of 24 rolls each) 50 gm gross/336 R0lls Per Box (28 packets of 12 rolls each) 100 gm gross/200 rolls Per Box 200 gm gross/100 Rolls Per Box 500 gm gross/40 Rolls Per Box

, All India, South India, Central India, North India, East India, West India, Andaman and Nicobar Islands, Andhra Pradesh, Assam, Arunachal Pradesh, Bihar, Chhattisgarh, Chandigarh, Delhi, Dadra and Nagar Haveli, Daman and Diu, Gujarat, Goa, Haryana, Himachal Pradesh, Jammu and Kashmir, Jharkhand, Karnataka, Kerala, Lakshadweep, Madhya Pradesh, Maharashtra, Mizoram, Meghalaya, Manipur, Nagaland, Odisha, Punjab, Pondicherry, Rajasthan, Sikkim, Tamil Nadu, Telangana, Tripura, Uttar Pradesh, Uttarakhand, West Bengal
ISO 9001 2015, ISO 13485 2016
Contact Us
Plot 688, Village - Umaraya Taluka - Padra,, Vadodara, Gujarat, 391440, India
Phone :+918037400273